RESTAURANT & BARS

9 Muses Hotel Skala Kefalonia
AVRA RESTAURANT
Enjoy a variety of Mediterranean food specialties and local cuisine
Avra Restaurant Kefalonia is located on the hotel premises, only 20 meters from the beach and is newly renovated. Avra Restaurant offers you a breathtaking view of the Ionian Sea. You can start your day with a delicious breakfast. Enjoy a greek salad with traditional Kefalonian delights for lunch and a romantic Mediterranean dinner by the sea.
Sourcing only the highest quality, fresh, local ingredients, the menu is a cool combination of traditional dishes with authentic Kefalonian flavours. The extensive menu offers modern, fresh and healthy cuisine with traditional Kefalonian touches – something for every appetite, plus an impressive wine list boasting a selection of local kefalonian wines. Start with Shrimp Saganaki with feta cheese, parsley and ouzo or taste our famous AVRA Cheese Pie. Mains include fresh seafood – a specialty is the seafood platter including squid, sole, swordfish, anchovies and shrimps – and succulent meats like beef Filet 9 Muses in a cream sauce with fresh mushrooms and brandy and pasta dishes including an incredible Seafood Combo and Linguini 9 Muses.Your magical evening ends perfectly in our elegant bar, where the bartender will make for you one of the best smoothies, juices and cocktails of course!
In addition to the romantic outdoor spaces Avra restaurant also offers a big indoor dining room (reservations recommended), ideal for larger groups, wedding venues and special occasions.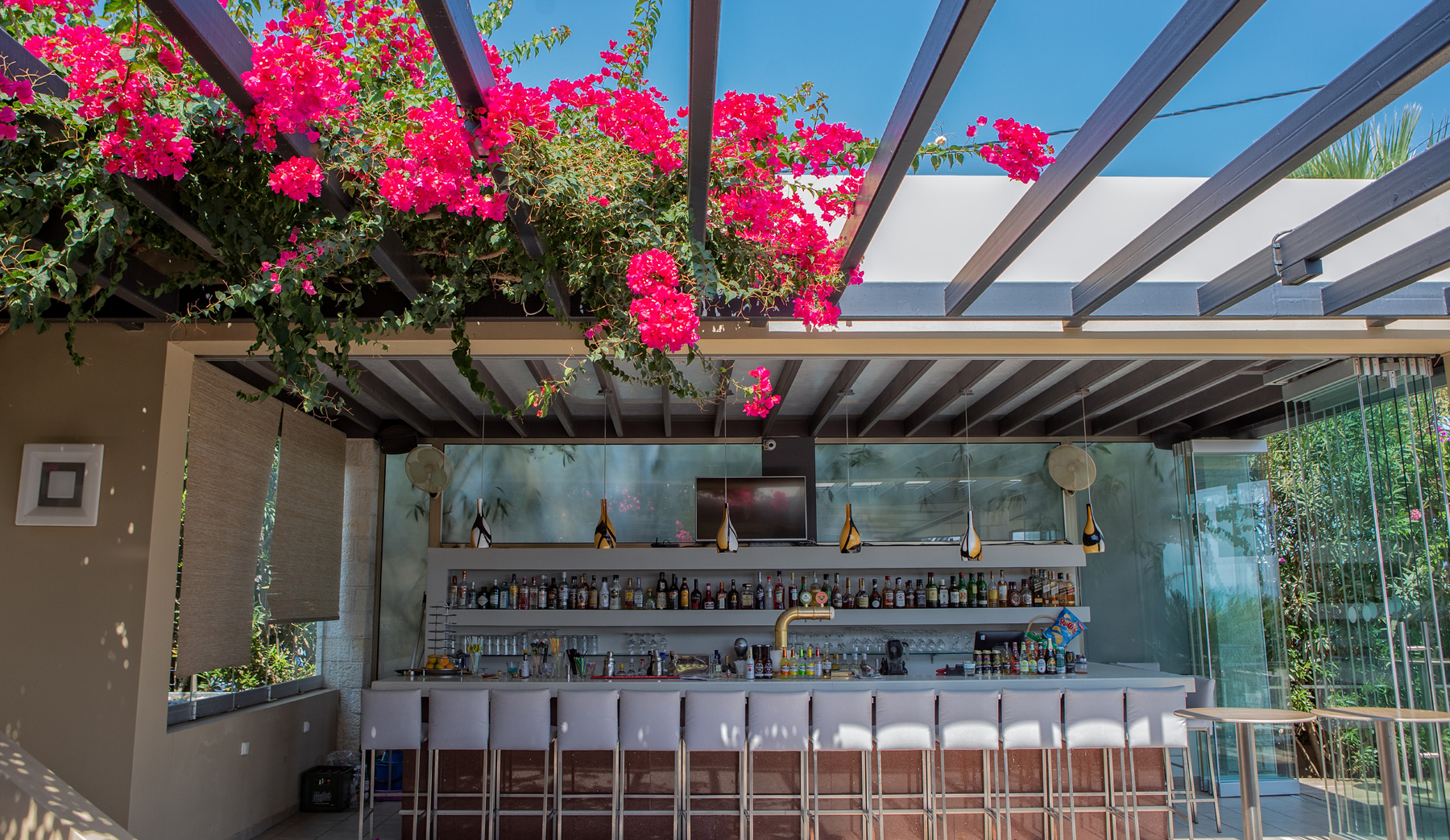 9 MUSES BARS
Begin your day with excellent Greek homemade tastes, right next to the Pool
The three stylish pool bars of 9 Muses Hotel are the best place to enjoy the hot summer days during your vacation in Skala Kefalonia.
Vesta Bar overlooks the main pool of the hotel and the second one is located next to the swimming pool at the hotel's upper wing.
Take the time to taste a great variety of fresh juices, ice-cream, light snacks, cocktails, spirits, draught and mixed drinks overlooking the main pool, where you can enjoy the view of the sea.